We have partnered with small business lender iwoca to make it easier for you to access finance.
Borrow up to £400,000

No early repayment fees

Borrow from 1 day to 2 years
Applying won't affect your credit score. To be eligible for a loan your business must:
Be a limited company

Have an active status with Companies House with no overdue documentation

Have at least £50k turnover in the last year and be profitable

Be at least one year old
To apply for a loan, tap on the 'Business loan' icon in the 'Explore' tab.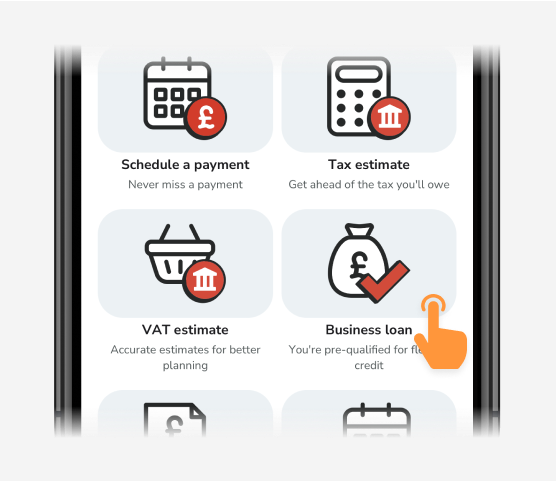 You'll need to provide the following information to apply:
How much you would like to borrow

What the loan is for

How long you would like to pay the loan back
If you accept an offer from iwoca, you will need to complete the application process on the iwoca website. You'll receive an email from iwoca asking you to set a password for your account.
Note that loans via iwoca are only available for limited companies. For more information please visit the iwoca help centre.
Terms and conditions
By applying for a loan through Countingup you agree to share personal and business data with our partner iwoca, as outlined by our privacy policy in the section 'Disclosure of your information'. You confirm the information submitted is accurate to the best of your knowledge.
iwoca will share your information with credit reference agencies to run soft credit and identity checks. This will not affect your credit score. They will also share it with fraud prevention agencies and if they do spot fraud, you or others could be refused services, finance or employment. You can view iwoca's privacy policy here.
If you drawdown a loan, Countingup will typically receive commission from iwoca for the referral. Countingup provides information only and not financial advice on iwoca lending products.